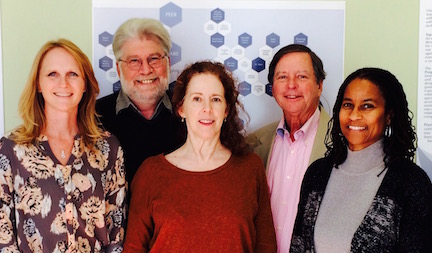 Denis Pierce, President
Martha Pierce, Secretary
Heather D. Parish, Co-Executive Director, came to the Pierce Family Foundation in 2013 with over 17 years of experience as an independent consultant to nonprofits and foundations engaged in housing, community development and capacity building initiatives. She was named Co-Executive Director of the foundation in January 2019. Heather currently holds memberships in the Association of Black Foundation Executives (ABFE), Chicago African Americans in Philanthropy (CAAIP), Chicago Women in Philanthropy (CWIP), the Harvard Club of Chicago and the California Alumni Association. She currently serves on the Chicago Foundation for Women's Advocacy Committee and the Metropolitan Planning Council's Sensible Growth Committee. Previously, she served as a board member for the Illinois Finance Authority, the Illinois State Board of Investment and the Wieboldt Foundation. Prior to starting her consulting practice, Heather worked as a Public Finance Associate with Prudential Securities Incorporated, as a Senior Consultant with KPMG Peat Marwick's Government Services Practice, and as a Fiscal and Policy Analyst for the California Legislative Analyst's Office. Heather holds a Bachelor of Arts degree in Applied Mathematics from the University of California at Berkeley, and a Master of Public Policy degree from Harvard University's John F. Kennedy School of Government, where she specialized in Housing, Community Development and Urban Economic Development.
Marianne Philbin, Co-Executive Director, has more than 25 years of experience working with foundations and nonprofit organizations on issues related to grantmaking, evaluation and strategic planning. She is co-author with Marcia Festen of the book Level Best: How Grassroots Organizations Can Tackle Evaluation and Talk Results (Wiley Publishing, 2006) and also co-author of How Effective Nonprofits Work: A Guide for Donors, Board Members and Foundation Officers (Forum of Regional Associations of Grantmakers, 2002). In addition to her work with foundation and nonprofit clients, she is an instructor and curriculum developer for Forefront (formerly Donors Forum), where she developed and annually leads the Institute for New Grantmakers. Previously, Marianne served as Development Director for the Chicago Annenberg Challenge, which was part of Walter Annenberg's legacy to improve public education; Executive Director of the Chicago Foundation for Women during its critical start-up years; and Executive Director of The Peace Museum. She has served on nonprofit boards ranging from Amnesty International USA to Chicago Women in Philanthropy, the Chicago Global Donors Network, and Project Exploration. She has also served for many years as a member of the Governance Committee for the Center for Victims of Torture, located in Minneapolis, MN.
David Krumlauf, Chief Technologist, has worked as a high school science teacher, an education officer at the CSIRO Parkes Observatory, and an Internet Service Provider business owner. He is a technology generalist who loves helping nonprofit organizations solve their technology challenges so they can better fulfill their missions. David lives in a greenbuilt home in rural northwest lower Michigan where he enjoys spending time with his wife, dog, cat, son and two beautiful granddaughters.
Laura Jansen, Grants and Program Manager, Laura Jansen has been in the nonprofit sector her entire career. She began her work life as box office manager and children's theatre producer at Moraine Valley Community College and continued working in the arts at Steppenwolf Theatre Company, Urban Gateways, and Alabama Shakespeare Festival. For the past 18 years, Laura has been consulting with nonprofits and small foundations that work in the arts, education, youth development, homelessness/housing, and marginalized populations. Laura holds a bachelor's degree magna cum laude from Ball State University and a master's degree from University of Alabama. She lives in Chicago with her husband, stepson, dog, and a hermit crab.