Pierce Family Foundation began the Top Talent Institute in 2012. Designed especially for Foundation grantee staff in middle management or departmental leadership positions, the Top Talent Institute is part professional development workshop, part learning circle, and part organizational capacity building. The Top Talent cohort meets monthly over 6-9 months.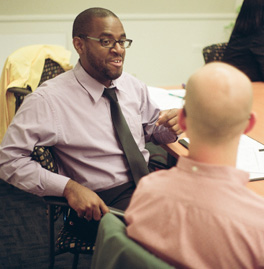 The Foundation has noticed that much of the professional development and leadership support groups available to nonprofits tend to be geared toward Executive Directors. And, although Executive Directors need all the love and support they can get, Program Supervisors, Operations Managers, Development Managers, and Finance Directors also need opportunities to stretch their skills and understand the needs of their developing roles. After all, they may be Executive Directors one day!
Top Talent Institute was created by PFF Support Specialist Kris Torkelson, and is currently facilitated by Forefront using their "Daring to Lead" curriculum. Participants have experienced the remarkable results of coming together in a supportive room of nonprofit peers.
"The workshops presented valuable information that would have been hard to find elsewhere in one setting. The focus of the workshops was specifically designed to make participants more thoughtful and knowledgeable leaders, managers, and professionals."
"I left yesterday as I left every Top Talent session – stimulated, refreshed, and with a sense of camaraderie with a group of motivated peers.  What a gift this has been!"
"Sitting here at my desk I began to reflect on all the wonderful people I met last year…Being a part of the Top Talent program was an experience that I really enjoyed. The conversations we had that challenged my standards and ideas of what I thought leadership should look like. I learned from each of you, your best practices and things I should avoid. It is because of input from each of you, I continue to excel in my own leadership."